As always, I'm joining
Laurie over at Disney 'n Diapers
for all things Disney these Wednesdays. Head on over there next - she always has such great Disney tips and such. Like this post.
I give you! The countdown garland thing! Great name right?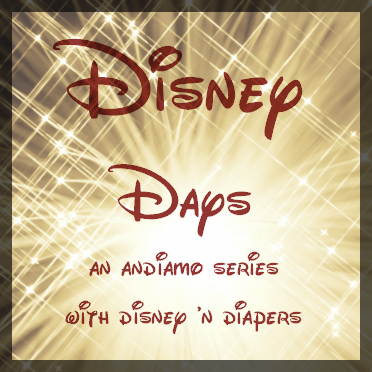 I did this for Letty last year and even though it was a teensy bit over her head it was fun. And she missed it when it was gone so I figure winner winner. It will probably be just as over David's head but I'm sure there are a few that he can join in on the fun.
First you figure out how far out you want the countdown to go. In this case we are going for an even 30 days. I'm a glutton for punishment what can I say. Then you make a list of activities. Anything from reading a story, watching a movie, singing a song, etc. Since I made it longer this time around I added some quotes in there because I was losing my creative flow. I even downloaded a Disney font (Waltograph) so it could look particularly festive. Print and cut and staple and there you have it!
These are the activities/quotes I decided on for this year:
- Sing your favorite Disney song.
- "You are braver than you believe, stronger than you seem, and smarter than you think." - Christopher Robin
- Practice your curtsy for when you meet a Princess.
- "Always let your conscience be your guide." - Pinocchio
- Write a letter to your favorite Disney Princess (I'll be writing. She'll be the creative genius. I hear if you mail it to
mail it to Walt Disney World Communications, PO Box 10040, Lake Buena Vista, FL 32830-0040 you will get a signed photo

)
- "The water's always changing, always flowing. But people I guess can't live like that." - Pocahontas
- Name your favorite rides.
- "The seaweed is always greener in somebody else's lake." - Sebastion
- Color a Disney picture.
- "Like so many things, it is not what is outside, but what is inside that counts." - Aladdin
- Do a Disney puzzle. Or ten.
- Wear Disney pajamas to bed.
- Watch Frozen (it came out yesterday and you better believe we will have it. And that our TV will be hooked up.)
- Have Mickey Mouse pancakes for breakfast.
- Call Poppop and Nonna and thank them for taking you to Disney.
- Take a virtual tour of Saratoga Springs.
- Look through photos from past Disney Vacations.
- Listen to Disney music on Pandora all day long.
- Make Mickey Mouse shaped chocolate chip cookies.
- Play the Princess Memory Game
- Search the house for hidden Mickey's
- Watch Beauty and the Beast
- Choose your favorite doll to take with you on vacation.
- Which Disney Character are you most excited to meet? David?
- Pack stamps for postcards for your friends.
- Have a princess tea party (or pirate).
- "It's Coronation Day!" - Anna of Arendelle
- Pick out which Princess dresses you'll be wearing.
- Help Mommy plan your outfits and pack them all up nice and neat!
- We're leaving for Disney World today! Hooray!
I will obviously hang this up somewhere I'm not going to leave it on my kitchen table. Here's a peek into how very crazy I am... I made this over a month ago because I knew I would have too much going on right now due to the move. That's right. I said it. Now where to hang it up here...
What fun ways do you countdown for a vacation?
|
|
TWITTER
|
|
INSTAGRAM
|
|
BLOGLOVIN
|
|
PINTEREST
|
|